With new interactive communication tools being introduced in the workplace today, it is no surprise that the workforce takes in more information than ever before. Every minute of every hour, content-rich processes are shifting how HR provides services and engages with talent. Whether this information and content is shared via social media, documents, employee portals, recruiting materials or email, HR is forced to reckon with the challenges of the creation, maintenance and storage of content that impacts daily operations.
Investing in a content management solution provides companies with a solid foundation to ensure compliance, foster innovation and improve the corporate brand to attract new talent. By empowering HR teams, companies not only drive process efficiency and reduce costs, but enable employees to be agile and collaborative innovators in every department.
SAPinsider: Secure HR Document Management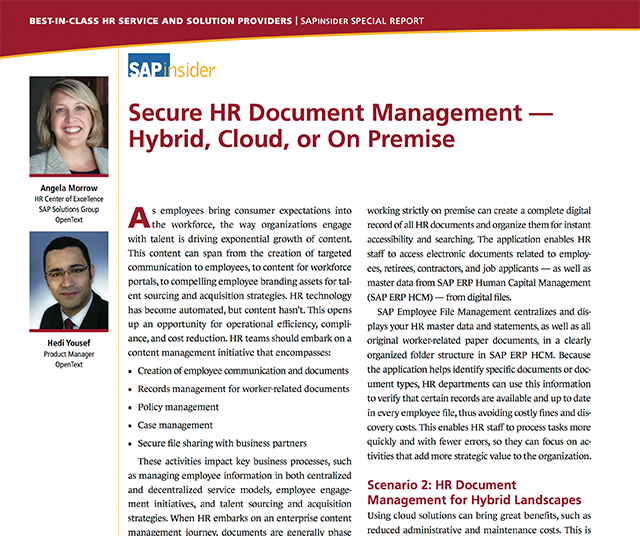 Today's increased HR content, is essential to engage with talent but it hasn't become automated along with HR technology. An opportunity arises to devise a content management strategy to seek operational efficiency, compliance, and cost reduction. In this SAPInsider article, discover how to develop an effective content management strategy.
It's crucial to keep your company's human resource documents and data for as long as necessary – but no longer. As the variety of enterprise information – including social media – continues to explode, how can you manage growing volumes of records and comply with an array of regulations?
An average of 40 HR documents are created for every employee in an organization. Apply this figure to a 10,000-employee company, that is nearly half a million documents that must be created and stored, and each one plays a role in an estimated 1 million HR document transactions every year. Read the results of our recent survey with the Human Capital Institute (HCI)
View this webinar on demand where we highlight specific, measurable ways an electronic content management system can transform your organizational HR department into a strategic business partner with a real seat at the leadership table.
The Human Capital Institute and OpenText partnered to develop a report examining the use of technology-based content management and its effect on HR service delivery.
Complete our online calculator and receive an individualized report showing how integrating an Enterprise Content Management system in your enterprise can show significant cost savings.
Understand the potential of paperless processes and how to put them in place in your organization. Join our expert panel for an insightful and engaging discussion to learn about best practices to help launch your digitization efforts.